Books by Susan Hasler
Project HALFSHEEP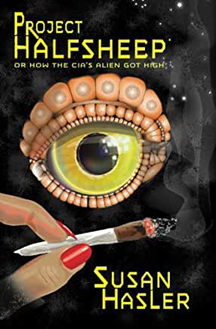 The lords of a dying planet send Piyat, a terrified "volunteer," on a voyage across the universe. The reluctant alien crashes in the fear-washed landscape of Cold War America near the site of the nation's first nuclear test. Captured by the Army and stolen by the CIA, she falls into the hands of a guilt-ridden ex-operative, a psychiatrist with a lust for pharmacology, and an Agency golden boy gone wrong. They turn her into the centerpiece of Project HALFSHEEP, a Top Secret program to test mind control drugs. But Piyat is not so easy to control.
PROJECT HALFSHEEP is a darkly funny blend of science fiction and political satire informed by the real-life excesses of the CIA in its earliest years. [ Available for purchase from Amazon.com. ]
Excerpt from Project HALFSHEEP:
If I were to indulge in the periwinkle prose, I'd say I fell from the depths of the universe and landed in a nest of spies. But only one of them, Lloyd, fit the traditional definition of a spy, and he wasn't a good one, according to his own account. Avery was a covert operator, or "loose cannon" in the common tongue, and Lee a psychiatrist. They gave me spy fiction to read, but I found it silly. My favorite books were the first I ever read on earth: Alice in Wonderland and Webster's dictionary. I venerated Alice and Webster. If I could choose my own name, it would be Alice Webster. Unfortunately, the many names I've had—some quite rude—were chosen for me by others.

It is accurate to say I fell from the depths of the universe. I hail from Utorb, a planet smaller and more crowded than Earth. On Utorb, my life was blissfully dull and lacking in sudden shocks and inexplicable developments. It was also a big obese lie, but I was fond of it.

Intelligence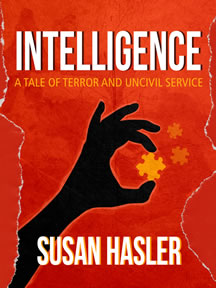 Branded an intelligence failure after the last devastating attack, CIA counterterrorism analyst Maddie James vows not to let tragedy strike again. Believing that a dormant terrorist cell is plotting a mass-casualty assault, Maddie warns the Administration. Unfortunately, her words are off-message in an election year, when the President claims the US is winning the war on terror.

Hell-bent on making them listen, Maddie pulls together an elite team of eccentrics—a disgruntled senior analyst, a bioterrorism specialist with hypochondria, and a horn-dog chemical weapons expert. They wage a fight against the extremists plotting the attack and the officials anxious to please their higher-ups.

Susan Hasler's first novel Intelligence is a dark, sardonic, funny, literary thriller that will appeal to fans of Homeland and Catch-22. [ Available for purchase from Amazon.com. ]
Excerpt from Intelligence:
We, the disgruntled, are legion in the mines. We inhabit forgotten side shafts, hidden pocks, the underside of dislodged stones. By our own stubbornness, audacity, or foul luck, we've condemned ourselves in perpetuity to scuttle laterally through the vast intelligence bureaucracy, kept away from the controversial accounts, from the glass-walled upper reaches of management. We wallow in supposed moral superiority and thumb our noses at the eager climbers, glib accommodators, ass-licking yes men and women who pass us on the stairs. We're bitter, wise, and irreverent. We know where the bodies are buried and have the don't-give-a-damn gall to joke about it. They never let us brief the Esteemed Legislative Body. They would fire us, but we might write books.
Audio excerpt from Intelligence available on Audible.com:
http://www.audible.com/pd?asin=B0042R3AKE